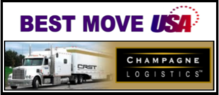 Dedicated Full Service

Situation:

A Worldwide manufacturer of telephones and equipment requested EG to design, build, transport and install customer Kiosks to malls nationwide.

Kiosk sizes at 10' x 12' and 16' x 16'

Deliveries and installations could only be after evening mall hours

Two-night installations required per kiosk

Goals:

To provide the most cost effective means for transporting the kiosks to malls nationwide

To provide inside delivery and placement in malls after hour and over two nights

To provide driver assistance to EG Retail installers

Solution:

STI developed a program to provde 53 ftt, lift-gate, tractor-trailers to direct transport each kiosk to the destination mall

STI assigned dedicated truckload drivers to the program to provide consistency and kiosk handling experience throughout the program

STI drivers performed inside delivery of each kiosk over two nights as required.

STI drivers assisted EG retailer installer with placement and setup as needed.

Results:

Kiosks were delivered and installed on schedule, damage-free

Greater efficiency and cost savings was evidenced by utilizing assigned drivers with direct, specialized trailers

Customer satisfaction was realized by both EG Retail and their customer.